Welcome to our Ranch!
Let us introduce ourselves, our names are Richard and Carol McDonald and we are thrilled to be at your service!  We live in an adjacent home full time on the ranch. We have so much joy in all that is the Black Hills that we find great fulfillment in offering a B&B here in the ideal heart of God's Country!  Do not let our grey hair fool you, we are as active as school kids at recess but we also try and make ourselves available most times to visit about the history of the area, to give directions and maps, or just chat about your day and answer any questions you most certainly will have!
Our story is a good one!  We met in Salt Lake City while attending East High School  in the mid-20th Century. We can honestly tell you that we had love at first site and have never looked back! From Richard's time in the navy, to years in Logan, Utah, then Flagstaff and Mesa, Arizona, from careers in automobiles, real estate and architecture all to accumulate to what became our final destiny in the magnificent Black Hills South Dakota our ever enduring love for each other has only strengthened with time.  Richard grew up coming to what we call "the Old Ranch" as a child, 20 acres of which is now McDonald Mountain Ranch.  The days on the ranch were productive ones as so many of our former generations experienced. Richard would work long hours side by side with his very accomplished grandfather, C.C. Gideon while also enjoying delicious food and fun family reunions and get together. While you are here, listen carefully and you will hear the distinct call of the Black-Capped Chickadee and its nostalgic two note whistle call, something Richard strongly associates with his childhood!
In the early 1990's, while in the Black Hills for a full and fun family reunion, Richard and Carol saw that a dilapidated "Old Time Photo" had gone up for sale on the boardwalk in downtown Keystone, SD. Captivated with the beauty and wonderful memories of the Black Hills, they jumped in feet first and turned what was a lemon at best in to the crown jewel building on the Keystone Board Walk.  They have since sold the company, but with the business to keep them here, they became happy permanent residences of these gorgeous hills.  In order to better accommodate their 4 daughters and the many grandchildren, we were able to purchase a part of the "Old Ranch" property. In many ways, being able to purchase the location of so many happy childhood memories was the fulfillment of a life long desire for Richard.
When we show our visitors the before photos of the ranch, they are aghast with amazement. We wanted to preserve the skeleton of the original ranch buildings and so we worked for five long years to build our dream house with the original ranch house integrated into the structure of what is now the primary McDonald Mountain Ranch House. Although the same stairs are no longer in existence which Richard may have gotten sick in the middle of the night causing a major cleanup effort by his grandmother, the walls have a rich heritage and there is joy in the challenge to actually use the Architectural Degree received at the University of Utah.
During the years Grandpa Gideon owned the ranch he made substantial improvements to the historic buildings by bringing in running water, and providing indoor restrooms. The large ranch property had many great assets including four working mines, running water – Iron Creek, frontage on Iron Mountain Road, and clear access to land with views of Mt. Rushmore, which was just getting started at that time.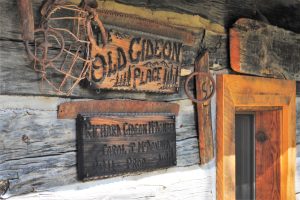 In 2016, McDonald Mountain Ranch B&B was opened after the completion of our flagship addition we named the Carriage House. Along with the carriage house, we were able to renovate and restore the Calamity Jane Cabin, a heirloom studio long on the ranch!  We are also very happy to announce the additional room to rent in the Carol Jean Cabin, another of the classic buildings on the property we had hopes of one day accommodating guests!
Our workday is 9am until 7pm.  Call us, email us, or stop by for a chat!  We look forward to serving you and ensuring your time here in the hills is one you will never forget. Maybe even repeat several times!