Welcome to Paradise!
Search all of your years and life and you will most likely never find a greater place to spend your next vacation! The Black Hills are one of the most unique, stunning and welcoming places in all the world. A large number of its residents came here to visit many years ago and we quickly discovered that we could never leave… you will have to enter with caution, as you too may be a casualty of the Black Hills powerful magnetism!
McDonald Mountain Ranch is the ideal place to spend your time in the Black Hills.  We are perfectly located on a pristine forested twenty acres touching forest service land in almost all directions! We are in a the heart of the Black Hills offering pleasant serenity while still allowing quick access to almost all of the more inviting attractions. From our delightful ranch, you can see the grand shrine to liberty, Mount Rushmore, enjoy a manicured meadow that fills up with deer and turkey each evening, take a easy level hike to "our" lake, Lakota Lake.
Available on the ranch are three rustic yet boldly refreshing modern "cabins". The Carriage House, the Calamity Jane Cabin, the Carol Jean Cabin. Each of the rental units have cooking facilities, private baths, and private decks for sitting, sipping, supping and watching the local wildlife. Come for privacy, beauty, tranquility, but also take advantage of the central location. All units are supplied with coffee makers and basic cooking accessories. We have free Wi-Fi, but please keep in mind that because we are in a rural area of the Black Hills, the internet is not the most reliable or the fastest. Cell service can be unreliable here, as well. Keystone is the closest town and will have reliable cell service. While we love animals, we do not allow animals / pets on our property. No exceptions. Thank you for understanding. Check in time is 4pm MST, check out time is by 11am MST. (Late arrival, after 8pm, can be arranged; please call us.)
Reservations:
SEASON DATES: April 15th – October 15th
Reserve A Premium Cabin: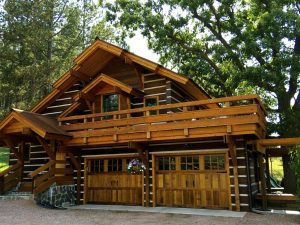 Major Attractions:
Mount Rushmore
"Just down the road" Mt. Rushmore is something all Americans must see at some point in their lives. A true feat of mankind and a fitting tribute to our courageous founding fathers who risked everything to give us a Republic! Our property is situated up "on the mountain" and with just a short hike to the high point on our property, you can see this historic and everlasting monument. We would insist this be on your list of activities and we have the genius and worth traveling Iron Mountain Road to take you there which is an attraction unto itself!
Chief Crazy Horse
A bold undertaking, and one that may never cease being a "work in progress", the major Cheif Crazy Horse monument is awe inspiring even in what could be called its early phase of development! Any time a world famous artist decides to make a mountain his masterpiece, it is definitely worth taking a up close and personal look!
McDonald Mountain Ranch Attractions:
Lakota Lake
We call Lakota Lake "our" lake as it is one of those hidden gems of a place that few if any individuals seem to visit each year.  Off the back end of the property we have easy access to endless acres of pristine forest service property.  With an easy and pleasant hike you can find yourself on the private or inaccessible side of Lakota Lake.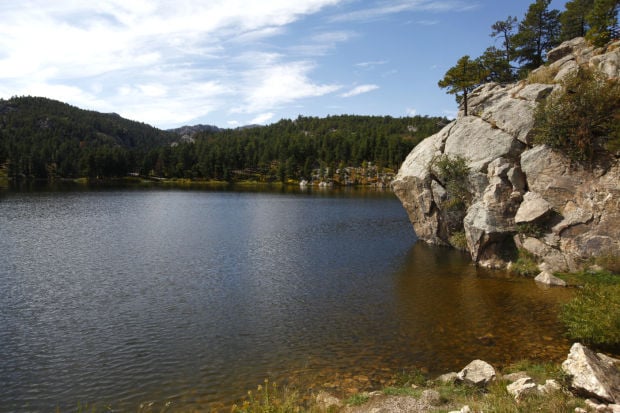 Our Own "Boulder Mountains"
These are hard to describe as they are not simply hills but to be fair, they are not mountains either.  McDonald Mountain Ranch is tucked up against some classic boulder based mini mountains.  These mini mountains are a blast to climb up and once at the top, you can see miles in all directions of incredible scenery.  The last time we went up to the top, a full sized Eagle came within a stone toss of us and as we viewed the incredible wilderness around us we realized we literally had a birds eye view of paradise!
Iron Creek Hiking Trail
Through forest, meadow, hill and many times over the creek, this lushly green trail will provide ample opportunity to lose yourself in the woods!
The buffalo herd is often just "down the road" in Custer State Park. Many of our visitors have reported to us being literally stuck in the middle of the herd while being stared down by the large Bulls. On top of buffalo, enjoy the wild mules, mountain goats, deer and of course birds of prey!
The Black Hills were famous for their mystique as well as their abundant game. Famous people and hunters would travel from the four corners to experience the plenty that the Hills provided. Almost at the heart of the thick wilderness was a true masterpiece of structure and architecture that is the State Game Lodge. Today it offers fine dining, wilderness tours and a sense of wonder.
Each evening during our summer season on our almost non-traveled country road, we experience a veritable "rush" hour. Of course, our rush hour doesn't last for three hours but is simply marks the end of the play at the nationally renown Black Hills Playhouse. These nightly shows have entertained thousands upon thousands of guests over the years right in the heart of the one of America's most scenic forests.  Look into the Playhouse, you may find the perfect entertainment for you!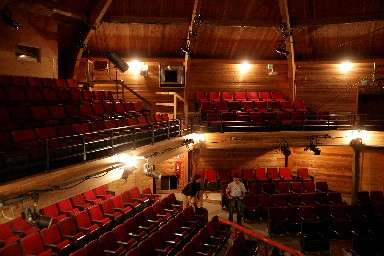 "World Class" Scenic Drives:
Right up there with the Swiss Alps, Patagonia, and the Redwood Forests drives is the Needles Highway. Although lesser known than these other attractions, the boulder and rock formations of the Black Hills are truly unique to the region.
Grandpa Gideon, at the behest of Senator Peter Norbeck began work on designing the world famous Pigtail Bridges in February of 1932. The first of his plans was sent off to the Senator in April of that year, with subsequent bridges coming in later years. Norbeck and Gideon had laid out the newly created Iron Mountain Road and with Norbeck's vision and Gideon's ability to turn the vision into reality, Iron Mountain Road became one of the top scenic drives in the U.S. In about 1922-23 the two had worked together to lay out the world famous Needles Highway, which is now one leg of the Norbeck Scenic Highway Byway.
Classic Black Hills "Mining" Towns:
Our "local" town, just minutes "down the mountain" is quite possibly the cutest and most quaint of the "tourist" towns in all of the Black Hills. Keystone boasts of family friendly yet edgy boardwalk that complements its historical mining background and role as the gateway, or keystone to Mt. Rushmore!
Each of the seasonal based towns in the Black Hills have their own spirit to them. Hill City, not unlike Keystone, has a fun and prospering board walk, great food and restaurants, and entertaining shows and people!
Famous as the place that proved to be the end to "Wild" Bill Hickok,  Deadwood may be said to be the destination for a bit more adult or mature type travelers. Not without its family charm, it boasts authentic feeling Saloons, Casinos and other places to stop for thirsty travelers. Attractions include Tatanka: Story of the Bison,founded by Kevin Costner, Days of '76 Rodeo in mid July, Shootouts in the street, Big name concerts are fairly regular.
Hot Springs is on the southern end of The Black Hills. A town with great old western charm. Waterfalls, swimming holes fed with warm mineral healing waters from the many hot springs in the area. An indoor Mammoth dig an National Treasure. One of my favorite is the Black Hills Wild Horse Sanctuary.
Mountain, Lakes and Rivers:
Black Elk Peak is the highest point in South Dakota and is absolutely stunning.  The best trail head being at Sylvan Lake, enjoy the day hiking up to the old fire lookout tower with a view of the Hills as far as you can see!  As you look out from Black Elk Peak, you will see first hand why they are called the "Black Hills" as with the thick forests up against the vast plains it is a place where one in ancient times could get lost for the duration of their life and never see all that is there!
Making its national debut in the movie "National Treasure 2" Sylvan Lake is a place worth visiting. With a public beach, boulder islands, unique formations and enjoyable trail going around the lake, it is a lake for the photo books!  One of the best features of Sylvan Lake is that the route
Although Center Lake is not necessarily a world class destination, it is another wonderful lake within a few minutes of McDonald Mountain Ranch. It has beautiful landscapes and scenery including a fun beach and day picnic sites!
Caves:
Our local cave, this is a world class cavern just down the mountain!
Designated as part of its own national park system, this is a cave that few will ever get to see the entirety of given its many miles of caverns and extensions. We could dedicated an entire page to Wind Cave but it is definitely one that should be top of the list of wonders to see in your quest to explore the country!
Major Black Hills Tourist Attractions:
A world class "zoo", well more like "better not be afraid of snakes" land,  those who travel the country are astonished to discover that the Black Hills is host to one of the most interactive up close and personal reptile and bird exhibits! in a uniquely built dome shaped structure including stunning outdoor gardens, this is a destination for family and solo traveler alike!
The phrase "don't feed the animals" has never meant more than it does at bear country. Other than its sister location in Arizona, there is literally no other place like it in the country. From the comfort of your vehicle, you will be up close and personal with more bears, elk, deer, wolves, cougars, etc. than any other "zoo" you will ever be a part of!  A "I survived bear country" shirt will be sure to inspire interesting conversations!
A fun stop and not as high powered as the others on this list, but most tourists agree, this is a mind bending experience. According to the mythos of the experience, there is a gravitational vortex at this location that early prospectors discovered by accident. Watch as balls role up hill, daughters become taller than fathers, and children sit on seemingly square walls!  A fun stop for the family.
Local Attractions
As mining was the core foundation of the existence of the perfect small town of Keystone, it is fun to go to the mines and see the hard, glamour-less conditions these early pioneers employed themselves in to earn a living.  After the tour of the mine, enjoy a chance to do some real life prospecting with gold pans and gold flaked dust!
Although we ourselves are very nervous by the idea of private helicopter tours, we do have a couple of local companies that provides these scenic vista explorations!
A perfect day in our minds is to start of strolling the festive and fun boardwalk of Keystone, SD, and then taking a well routed and fun ride on a classic train through the thick of the Black Hills.  This will take you to Hill City, SD which offers the same wonderful dining and shopping with its own unique feel and flavor!